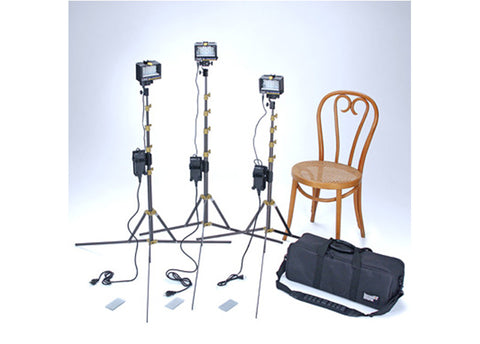 Lowel
Blender 3 Light LED Kit
Todays run & gun video shooter can easily find themselves in a variety of lighting sources during the course of their day. Tungsten incandescent, office fluorescent, daylight, or the dreaded office setting that contains a mix of all three.
Now you can work quickly in any of these settings with full creative flexibility, using the Lowel Blender 3 Light Kit.
Each Blender has 2 sets of LED's, in Tungsten & Daylight color, which are quickly & easily blended to your desired color output. Diffusers vary the character of the light.
Light to match the color temperature of your location, or contrast it to create a sense of depth & drama. You have creative control, light it the way you see it.
Room inside for accessory Camcorder Battery Sled 3 Packs or industry standard battery cables.
Total Kit Wattage: 48 Watts
Call (850) 479-3808 or Email Us today for more information on the Lowel Blender 3 Light LED Kit.
---
We Also Recommend