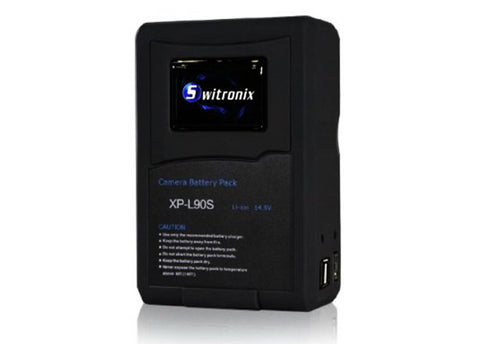 Switronix
XP-L90S
A Lithium Ion battery that can deliver 40% more capacity than comparably sized NiCd batteries, the XP-L90 for V-mount is one of the lightest rechargeable batteries available today. Running at 14.8 VDC with a 98Wh capacity, it can be legally transported without restrictions under IATA, ICAO, and UN regulations.
Like all Switronix batteries, the XP-L90S comes equipt with an integrated p-tap on the side of the battery allows users to power any 12vdc device from this port and automatically detects the camera load and calculates the battery's run-time based upon existing operating conditions with a 4-LED power gauge.
Additionally, there is an on board USB and p-tap port on the side of the battery capable of outputting up to 3A at 5v.
Call (850) 479-3808 or Email Us today for more information on the Switronix XP-L90S.
---
We Also Recommend