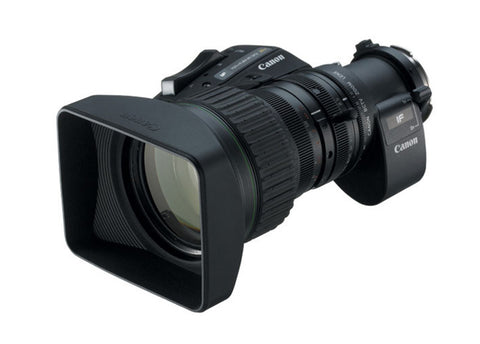 Canon
YJ20x8.5B Series
The YJ20x8.5B is a long zoom portable 2/3-inch lens offered by Canon to support a broad diversity of professional, business and industrial production applications. It is the latest member of a family of portable Pro-Video lenses that collectively offer an affordable broad range of creative options.
The YJ20x8.5B IRS utilized advanced optical technologies and powerful computer-aided design techniques to produce a high-performing lens in an impressive 3.06lb package, a full 9% lighter than its predecessor, the YJ19x9B IRS, meanwhile the KRS version is 2.58 lbs, a full 11% lighter than its predecessor, the YJ19x9B KRS. It uses an internal focus system. It is a design directly responding to the expressed creative desires of a broad cross-section of producers for a versatile acquisition system.
Call (850) 479-3808 or Email Us today for more information on the Canon YJ20x8.5B Series.
---
We Also Recommend